---
Framed panel doors for the modern kitchen
Matt Panna lacquer and Sahara Oak. Lacquered surfaces paired with wood grains and framed doors alternating with plain ones make for a modern kitchen.

---
Framed panel doors for the modern kitchen
Matt Lava lacquer and matt Grigio Daytona Color Trend lacquer. A combination of light and dark shades set off different areas in the kitchen.

---
Framed panel doors for the modern kitchen
Matt Bianco Ice lacquer paired with textured, Calacatta laminate. The marble effect finish takes over the central area of the kitchen and perfectly suits the white tall units.

---
Framed panel doors for the modern kitchen
Matt Fango lacquer and matt Panna Color Trend lacquer. Living room arrangement in matt Fango lacquer with Frame doors and Natural Palo Alto shelving unit and back panels.
Stosa FRAME kitchens.

An essentially designed kitchen made from simple but perfectly combined elements.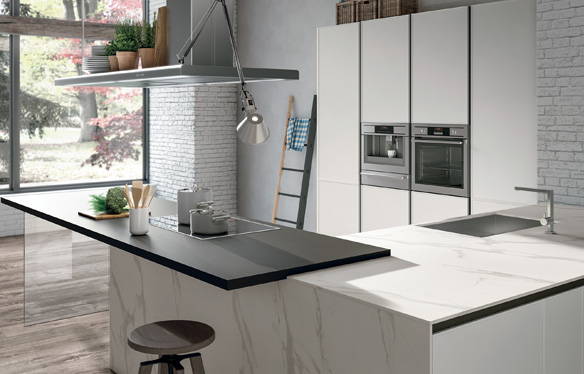 Frame's main feature is its unique panel door design: a thin tone-on-tone profile "frames" the face of this kitchen. Stosa Frame doors take a favourite classic look and interpret it in a contemporary, minimalist key with an added touch of Nordic flavour.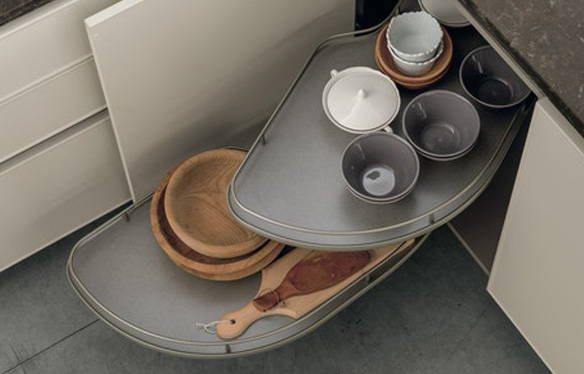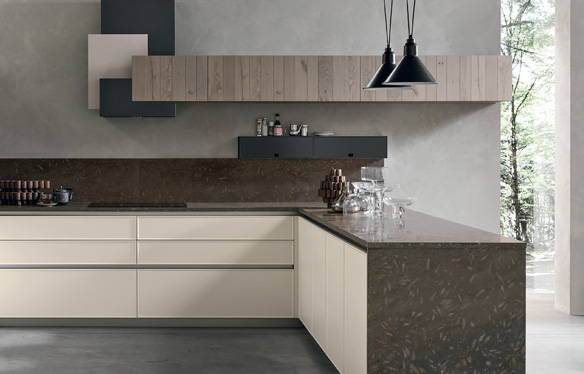 Frame kitchens make space their distinctive feature, thanks to a perfect balance between the clean lines of modern minimalism and traditional style. Using clever light and shade effects, Frame alternates distinct volumes with sophisticated, minimalist, matte lacquered doors that can be combined with Color Trend and other Evolution System finishes.
The Frame collection combines essential style with rich accessories. Its multifunctional elements serve different needs in the kitchen and permit a wide range of practical layouts and organisational solutions. Another key feature of Frame is integrated technology, like electric lift sideboards that elegantly raise and lower their shelves at the touch of a button.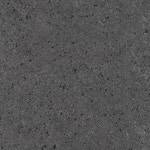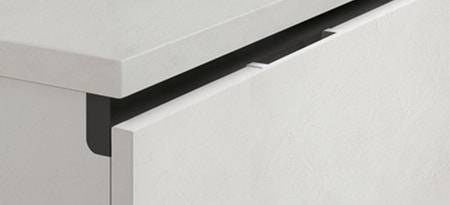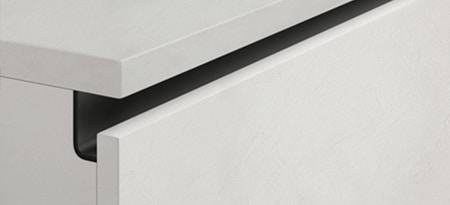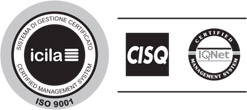 CERTIFICATION TO ISO 9001: 2015
Stosa is committed to research and innovation in products and processes.

CERTIFICATION OF 100% ITALIAN PRODUCTION
Design, development and production are all 100% Italian.
FURNITURE OF CERTIFIED ITALIAN ORIGIN
Certified furniture is designed, produced and packaged in Italy according to the strictest standards of safety, strength and durability.