---
A contemporary taste of tradition.
The combination of light colours like damask linen white And silk gives the environment a relaxing and hospitable feel.

---
A contemporary taste of tradition.
The peninsula with the open and separates, while at the same Time harmonises, the cooking and living areas.

---
A contemporary taste of tradition.
A fresh and modern look for kitchen where every space is Rationalized to add salt effectiveness and functionality.
Stosa Maxim kitchens. Geometric shapes meet elegant contrasts.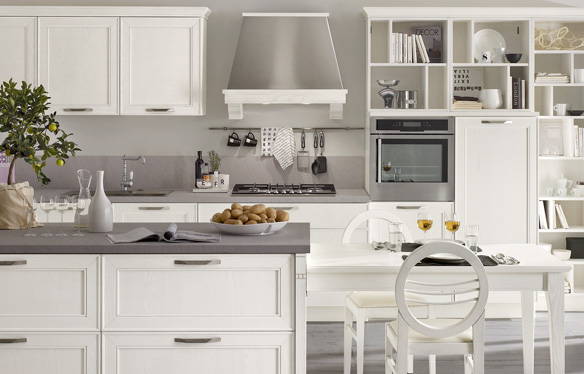 Maxim's young and functional design is ideal for today's active lifestyle and offers abundant scope for arranging space and creating unique, personal kitchens. Framed doors with an ash wood finish and moulded groove handles are combined with vintage and contemporary elements, including a hood and an island counter complete with dining table.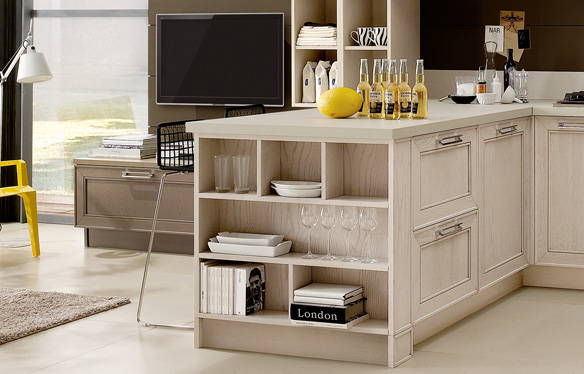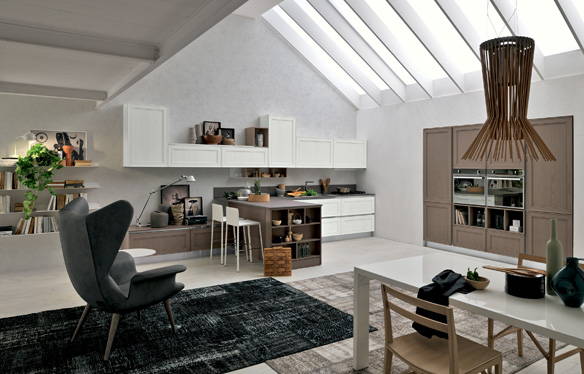 The ultimate in functionality, elegance and style, Maxim kitchens transform space and volume into open, original and welcoming solutions. The collection complements rigid, geometric lines with elegant styling to create a look that reflects tradition and modern life.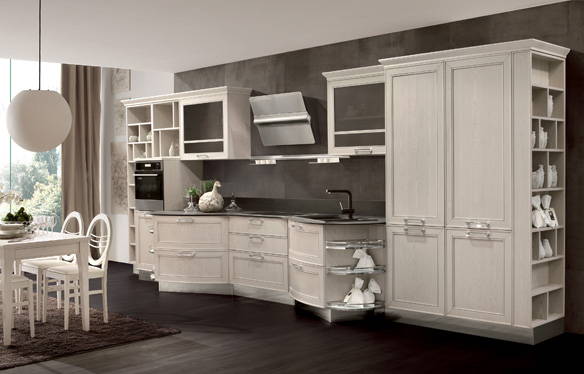 In these fresh, modern-looking kitchens every space is designed for maximum effect and functionality in a blend of classic and modern styles, innovative technology and comfort. By mixing closed and open elements, sideboards and peninsulas, Maxim plays with space and volume and blends practicality and strength with simplicity and elegance.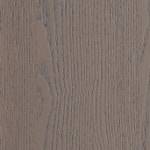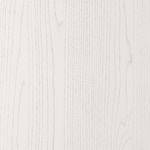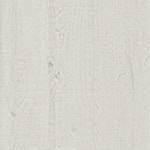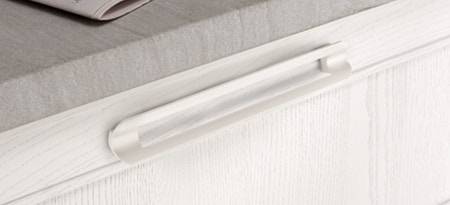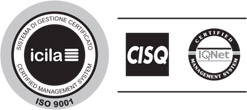 CERTIFICATION TO ISO 9001: 2015
Stosa is committed to research and innovation in products and processes.

CERTIFICATION OF 100% ITALIAN PRODUCTION
Design, development and production are all 100% Italian.
FURNITURE OF CERTIFIED ITALIAN ORIGIN
Certified furniture is designed, produced and packaged in Italy according to the strictest standards of safety, strength and durability.