---
Where tradition meets innovation.
The wall and tall units' bases come in Perla finish. Verde Salvia finished island and cupboard, white fabriceffect glass. Quarzo Veined Baroque kitchen top, veneered Noce Nazionale cupboard.

---
Where tradition meets innovation.
The doors come in Perla and Jersey. The kitchen top and island come in Bianco Carrara marble. The cupboard and snack bar tops come in Wafer laminate, the Kendy chairs in glossy white.

---
Where tradition meets innovation.
The doors are offered pairing Perla and Cipria finishes. The kitchen top come in Muné Brown. The Francesca handles in anthracite.

---
Where tradition meets innovation.
The doors are in Cipria finish. The top is in Lava laminate. The peninsula top in Rovere Slavonia laminate.
Stosa Virginia kitchens

. Traditional tastes interpreted in contemporary style.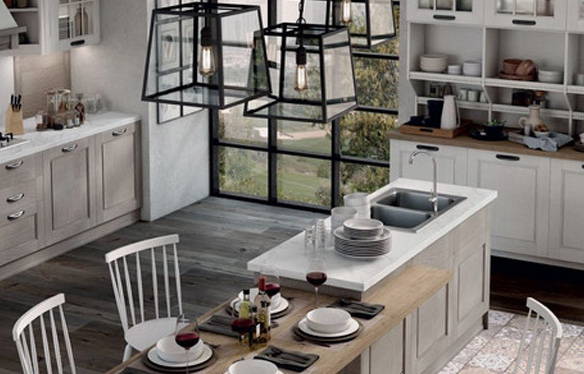 Virginia delivers looks and functionality: modules are designed for maximum capacity, base cabinets and wall units conceal hidden compartments for extra storage space, tall units incorporate kitchen appliances and open modules, columns and drawers provide instant access to all the utensils you need.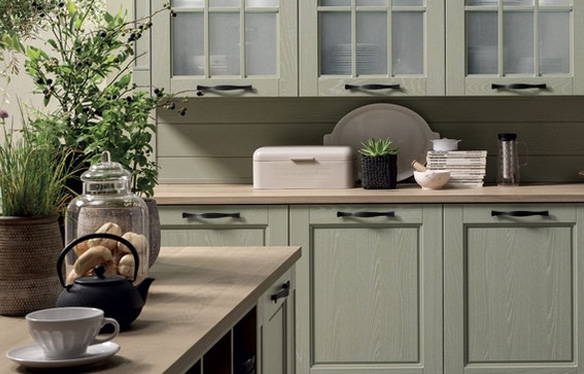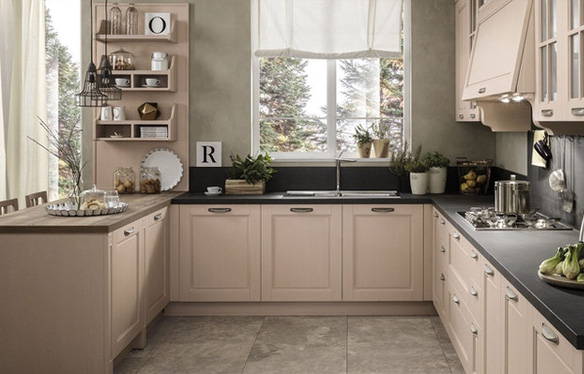 Virginia combines traditional style with modern design solutions. The collection embodies a refined, country-chic look in which rustic warmth finds a new equilibrium in an exquisite modern setting. Refined ambiences and original details breathe life into a contemporary version of the homely, classic kitchen.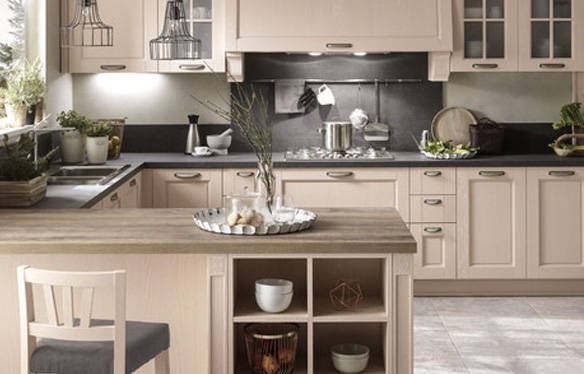 The Virginia collection expresses an elegant form of comfort through prestige finishes and materials and innovative technical solutions. Mouldings, floral decorations, decapé surfaces and natural wood grain create charming, cosy kitchens that combine rustic atmosphere with modern wellbeing.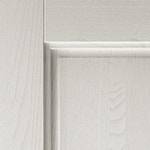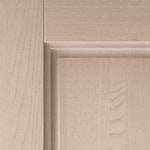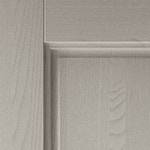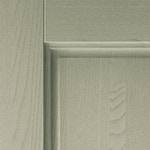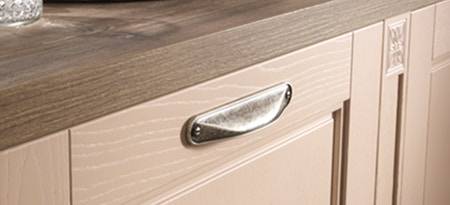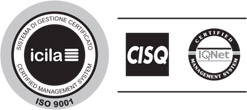 CERTIFICATION TO ISO 9001: 2015
Stosa is committed to research and innovation in products and processes.

CERTIFICATION OF 100% ITALIAN PRODUCTION
Design, development and production are all 100% Italian.
FURNITURE OF CERTIFIED ITALIAN ORIGIN
Certified furniture is designed, produced and packaged in Italy according to the strictest standards of safety, strength and durability.